This laboratory offers unique features by allowing students to observe and experience a simulated drilling operation. Its computer-assisted operation enable the instructor to create various drilling scenarios to train students.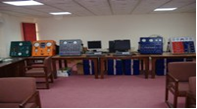 By using the simulator, students will learn how to do the following things. 
Control the Well. 
Drill a better hole.
Perform several well tests such as casing seat, drilling out of the casing shoe, drill-off, nozzle plugging, bit and bearing wear.
Handle gumbo problems such as bit balling, sloughing shale, and pipe sticking, understand blowout.
Major Equipment:

Drill Sim-500 Super Portable Drilling and Well Control Simulator 
(5 Consoles with 3 Stations)