This fully equipped laboratory in operational both for teaching and research provides the following studies: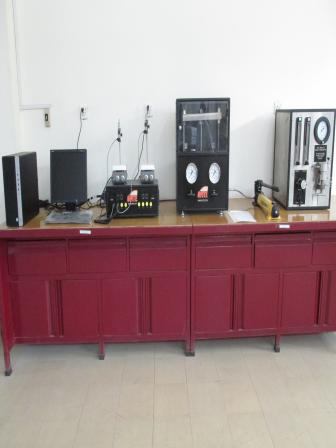 ​
​
Rheological properties of drilling fluids such as viscosity, gel strength, and yield fluids. 
Measurement of density, pH, filtration, and wall building characteristics of drilling fluids. 
Evaluation of mud additives to enhance the efficiency of drilling fluids. 
Study of contaminants on drilling fluid properties and treatment to eliminate their effects.
Study of drilling fluid properties at high pressure and temperature. 
Testing for lubricity, emulsification, resistivity, and hydrocarbon content.  
Measurement of zeta potential. 
Corrosivity of drilling fluids. 
Examination of interaction between water based fluids and clay sample under simulated condition while fluid in motion.
Major Equipment:
Dynamic Linear Swellmeter with compactor 
Mud Balance 
Marsh Funnel Viscometer 
PH Paper Hydrion Dispenser 
API Filter Press With CO2 Assembly 
Emulsion Stability Tester 
Sand Content Kit 
Resistivity Meter (Analog) 
Retort Kit (10ml) 
True Water Mud Balance 
HPHT Filter Press 500 ML.2000 psi 
Thermo Cup w/ss Cup 230V 
Atmospheric Consistometer Model 
Single Spindle Bench Mixer (Hamilton Beach) 
E. P & Lubricity Tester (Digital) 
HPHT Pressurized Consistometer Model 130 
Filter Press with Regulator and Air hose assembly 
Standard Filter Paper 
Measuring Cup (1 Liter) 
Electronic Rheometer 
Resistivity Meter (Digital) 
PH Meter 
Compact Balance 
HTHP Viscometer Model 75 
Viscometer Model 35 
Retort Kit (50ml) 
Cement Permeameter 
Analytical Balance 
Hot Plate 
Stirring Rod 
Stereo Microsocpe 
Methylene Blue Test Kit